Farm, PTO & Greenhouse Generators
Providing standby power generation systems is how the company started its business, supporting local farmers with backup power. We understand the necessity for clean power solutions for your farm or agribusiness. That is why we carry prime and standby generators specifically built for the agricultural industry by manufacturers such as Blue Star Power Systems, Cummins, and Winco. These manufacturers use common parts and engines such as New Holland, John Deere, and Perkins. With todays advanced technology, we understand the need for support and quick response. Our services are available 24 hours a day, 7 days a week.
Alternatively, we offer a Power Take-Off generator, also known as a PTO generator, which provides electrical power to remote areas of your property by generating power using your tractor or similar equipment. These require more setup time, but they provide a very affordable alternative to generate power. We offer Winco PTO generators with accessories such as a PTO trailer and a three-point hitch carrier. These generators range in size from 30 to 150 kW. Winco has been building PTO generators for over 60 years and their rugged design provides you with reliability and performance.
Our generators have provided power to many farms in our community including:
Poultry farms
Dairy farms
Hog farms
Fish farms
Equestrian facilities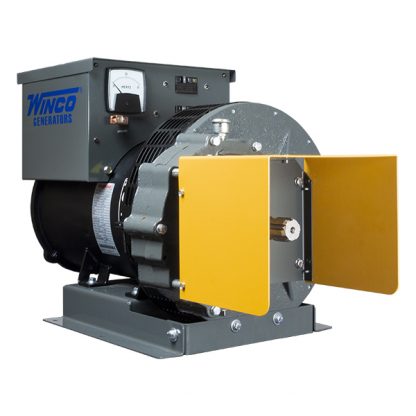 Anyone who has grown plants understands the complexities of maintaining a healthy growing environment. Large commercial greenhouses growers not only have to ensure they have quality plants, but they may have to grow the plants according to a set schedule laid out by their customers. Not an easy thing to do when sunlight and rain levels which are unpredictable and inconsistent! Temperature, sunlight, CO2 levels, nutrients, water, etc. all need to be regulated to ensure plants can flourish. In a greenhouse setting they manage these inputs through electrical systems such as temperature control systems, pumps to distribute water and nutrients, and networks of sensors to monitor the environment. When the power goes out, all these systems cannot operate effectively. Equipping your greenhouse with a prime or standby generator can protect your growing environment from heat, drought, and cold to keep your plants healthy and on schedule!
Prima Power Systems offers highly engineered diesel and natural has generators from 20 to 2,000 kW for greenhouses and other applications in the agriculture industry. We have experience understanding the needs of greenhouses growers and have worked with growers to design, install, and maintain generators in many different agricultural capacities.
Combined heat and power (CHP) is the wave of the future for greenhouse growers, giving them an advantage in a competitive environment that calls for more production, more quality, and a greener, sustainably sourced product. By delivering higher quality products from more energy-efficient, fruitful growing techniques, CHP is a win-win scenario for consumers and growers alike. Combined Heat and Power offers greenhouse growers an on-site, independent power system that generates profits and revolutionizes greenhouse efficiencies.
Based on lean-burn, natural gas-powered generators, CHP utilizes nearly every system output through the capture and reuse of waste exhaust heat and carbon dioxide (CO2). Compared to traditional utility- and boiler-powered greenhouses, CHP achieves up to 90 percent energy efficiency and utilization, delivering as high as 30 percent reduction in energy costs – and up to 30 percent increases in yields.
CHP consolidates the following resources for greenhouse growers:
Electricity for lights and other greenhouse operations
Thermal energy provides on-site heating
CO2 fertilization boosts crop production up to 30 percent
Surplus energy may be sold back to the local utility