Commercial & Industrial Generators
Standard And Customized Gen-Sets For Commercial And Industrial Use
Prima Power Systems offers highly engineered diesel and natural gas generators from 20 to 2,000 kW for commercial and industrial businesses. We have experience understanding the needs of businesses through careful consultation with previous clients over the past 10 years. We continue to service many repeat clients due to our exceptional customer service.

Prima Power Systems is an authorized distributor for the top brands in power generation industry for commercial and industrial gensets including Blue Star Power Systems, Cummins, Winco, and Doosan. Prima Power Systems has designed and sold hundreds of generator packages and serviced thousands of generators.
Commercial Standby Generators
A commercial standby generator system keeps your lights on and your business running. When there is a power outage, a standby generator automatically restores power in seconds ensuring your business is uninterrupted. Keep your payment processing machines working, inventory protected, air conditioning and heating running, and communication systems functioning in the event of a power outage.
We work closely with electrical contractors, engineers, builders, and commercial business owners to ensure the generator is designed specifically for their needs. We are familiar with CSA-282 regulations and ensure all installations are completed up to code. At Prima Power Systems safety is prioritized.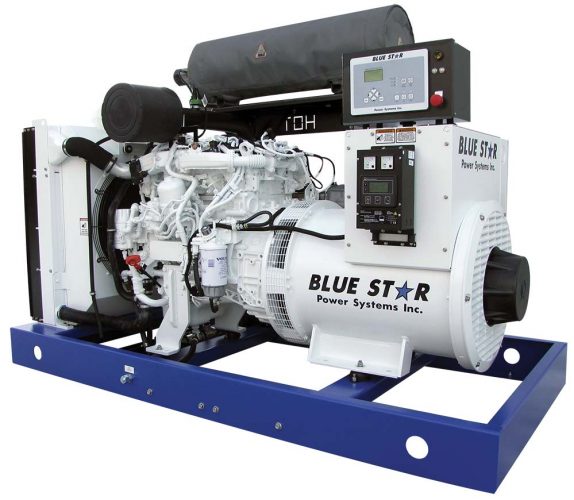 The specific needs in backup power generator for a commercial building will vary depending on the load requirements for each electrical application. A backup power generator for an apartment building may only need to provide power for emergency lighting and elevators, while an office tower or retail complex may need to provide an alternative power source for office computer equipment, point-of-sale systems, and servers during an outage. Prima Power Systems offers consultation services to review your power systems requirements to recommend a backup power system that meets your unique needs.
Our Commercial Backup Generators are suitable for applications such as:
Distribution Centers
Restaurants
Campgrounds
Fuel Stations
Retail shops
Sports Centers
Residential Care
Places of Worship
Schools and Universities
Film and Production
We offer generators to serve in both primary and backup power capacities fueled by either diesel, natural gas, or propane. Designed to service industrial applications, we supply generators to fully meet requirements of all configurations. An industrial backup generator provides continuous, clean, and reliable power to counter the instability of the utility power.
Prima Power Systems provides industrial generators for applications such as:
Oil and Gas Enterprises
Factories and Manufacturing
Production Plants
Food Processing
Telecoms
Wastewater Treatment Facilities
Mining
Forestry
Construction
High Technology