Cummins Automatic Transfer Switches

Integrated Cummins Transfer Switches For Reliable Power Transitions
Cummins Power Generation offers a wide range of automatic transfer switches for seamless transfer of power between the power sources in your application. Included as part of a completely integrated power system, PowerCommand® transfer switches rely on proven technology to deliver fail-safe performance in critical applications.
Cummins transfer switches provide flexibility and ease-of-operation. Paired with a PowerCommand generator controller, the result is a robust power system capable of ensuring reliable performance while maximizing cost effectiveness.
Technologically Advanced And Designed For Dependability
PowerCommand automatic transfer switches are based on microprocessor control technology, optimizing performance and ease-of-operation. Their robust, high-contact-force design withstands thousands of switching cycles without burning or pitting to provide 100 percent continuous current ratings.
A full line of standard switches is available from 40 to 4,000 amps for the entire range of power systems with common bus communication language. Custom-engineered switches are available to fit unique project requirements.
Major Features And Capabilities:
Withstand and closing ratings up to 200 kA

Convenient front-panel display to easily review power and load conditions, make adjustments, review events, and check network status

Open, closed, or programmed transition transfer

Bypass isolation and service entrance configurations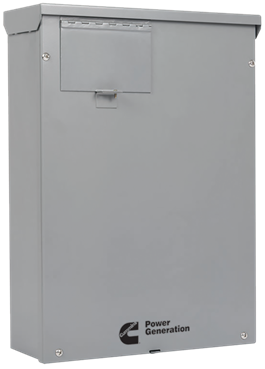 RESIDENTIAL TRANSFER SWITCHES
The Cummins Power Generation residential transfer switches are integrated with the Cummins Power Generation residential gensets. These products are Listed to UL 1008, the Standard for Transfer Switch Safety. The switch and generator set combination is specifically designed for a simplified, quicker installation.
When stable utility voltage returns, the transfer switch will automatically switch electrical load from the generator to the utility. No action is required by the home owner.
Standard Features
A powerful and economical solenoid drives the mechanism.
Independent break-before-make action is common for 2-pole.
Mechanical interlock prevents simultaneous closing of normal and emergency contacts.
Electrical interlocks prevent simultaneous closing signals to normal and emergency contacts and interconnection of normal and
emergency sources through the control wiring.
Long-life, high pressure, silver alloy contacts resist burning and pitting. Contacts are mechanically held in both normal and
emergency positions for reliable, quiet operation.
COMMERCIAL TRANSFER SWITCHES
OTEC transfer switches are designed for operation and switching of electrical loads between primary power and standby generator sets. They are suitable for use in emergency, legally required, and optional standby applications. The switches monitor both power sources, signal generator set start up, automatically transfer power, and return the load to the primary power source once a stable utility is available.
The fully integrated controller is designed for practical functionality, with LED indicators and digital push buttons for ease of operator use. Easy to service with a wide range of accessories and services available. The service entrance transfer switch meets UL 1008 standards for service entrance applications. The switch contains an UL-listed overcurrent disconnect device on the main incoming utility source.
Standard Features
Microprocessor control – Easy-to-use, standard control. LEDs display transfer switch status; push buttons allow operator to activate control test, exercise timing and transfer mode.
Programmed transition – Open transition timing can be adjusted to completely disconnect the load from both sources for a programmed time period, as recommended by NEMA MG-1 for transfer of inductive loads.
Advanced transfer switch mechanism – Unique bi-directional linear actuator provides virtually friction-free, constant force, straight-line transfer switch action during automatic operation.
Manual operation – Manual operating handles, shielded termination, and over-center contact mechanisms allow effective manual operation under de-energized conditions.
Positive interlocking – Mechanical and electrical interlocking prevent source-to-source connection through the power or control wiring.
Main contacts – Heavy-duty silver alloy contacts with multi-leaf arc chutes are rated for 100% load interruption. They require no routine contact maintenance and provide 100% continuous current ratings.
Easy service/access – Single-plug harness connection and compatible terminal markings simplify servicing. Access space is ample. Door-mounted controls are field-programmable; no tool is required.
Complete product line – Cummins Power Generation offers a wide range of equipment, accessories and services to suit virtually any backup power application.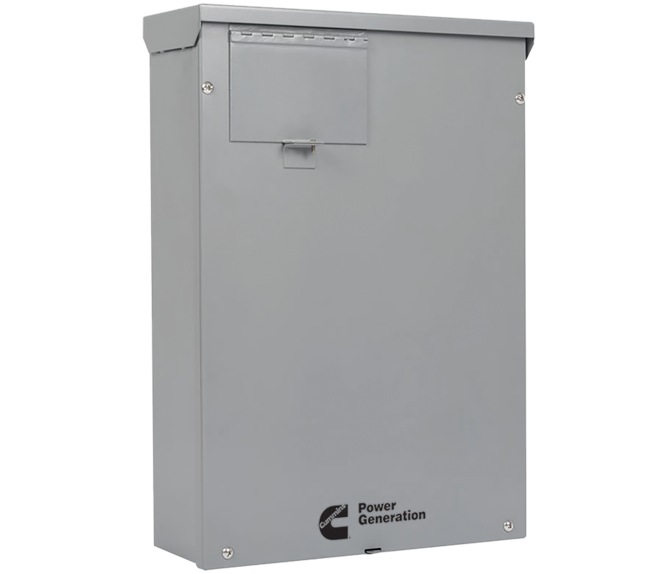 Our technical sales experts are available to provide you with a quote for your custom power generation package. We will respond as quickly as we can, typically within 24 hours.