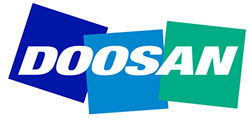 Doosan Portable Power features a comprehensive mobile generator line up ranging from 25 kVA to 400 kVA. Our mobile generators supply the power you need at the touch of a button. With customer friendly control panels, no generator has ever been easier to use. Mobile generators from Doosan combine industry leading technology and hardened features to address the needs of construction and rental customers while also serving industrial and emergency backup customers.
Doosan Portable Power's EPA-certified generators are designed for fuel efficiency, reduced sound levels, and ease of operation with a user-friendly interface. Rugged enclosures, skids and running gear assemblies assure mobility, while providing the most accessible service points in the market.
The mobile generator product line comes equipped with an extensive list of standard features augmented by several customizable options to give unmatched flexibility and versatility ensuring optimum performance for any application, even in the toughest environments.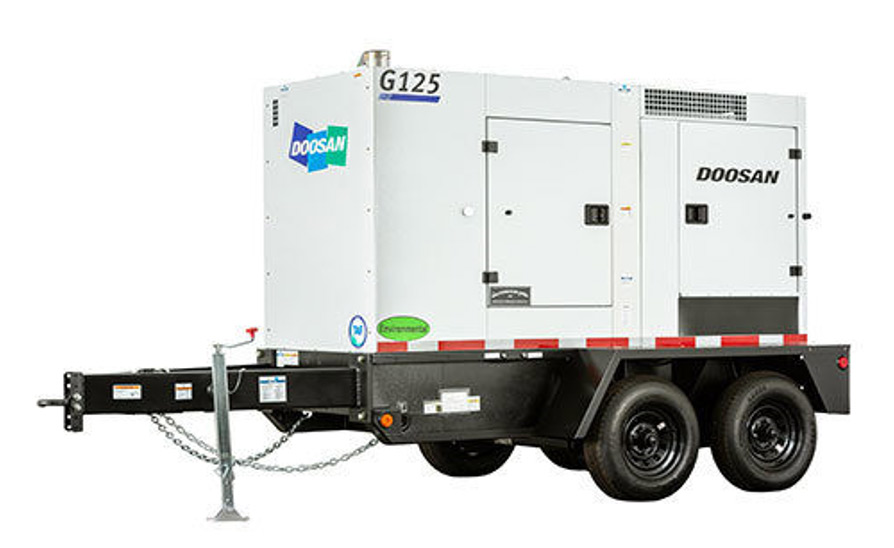 Our equipment is built to last with corrosion resilient galvanneal steel enclosures and a durable,
baked-on powder coat finish. Extensive testing at the test facility includes a test track, tilt table, and cold chamber to ensure the machines will perform in the harshest conditions.
Doosan is fully committed to delivering quality
machines that maximize uptime and productivity to
give you peace of mind
Doosan Portable Power gives you the power you
need in the most efficient manner. Doosan Generators provide leading fuel economy and performance while
ensuring compliance with the latest emissions
standards.
Doosan also offers unmatched versatility to support
almost every job or application. And with user
friendly controls and diagnostics, anyone can
operate the equipment with minimal instruction
Doosan Generators are engineered and designed with an emphasis on accessibility to make sure routine maintenance is quick and easy to perform without having to take the machine apart.
Prima Power Systems offers generator service and repairs to maximise equipment life and minimize operating costs and downtime. Talk with a today about after sales maintenance plans available.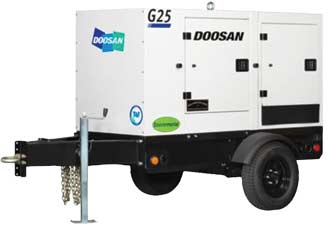 PRIME POWER RATING 25 kVA|20kW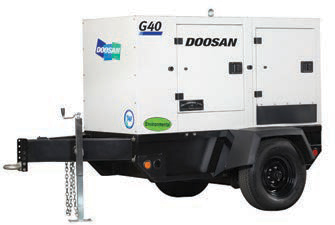 PRIME POWER RATING 39 kVA|31kW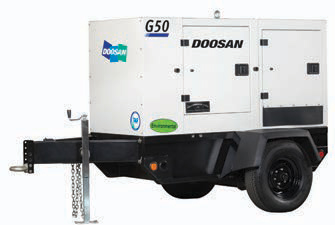 PRIME POWER RATING 48 kVA|38kW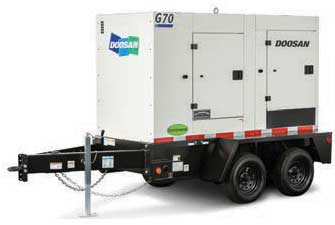 PRIME POWER RATING 70 kVA|56kW
When you need reliable, dependable power, look to Doosan Portable Power. Our mobile generator range covers applications from 25 to 400 kVA and meets the demanding requirements of rental, construction, events and entertainment, and disaster recovery customers. These rugged packages are designed to perform in the harshest environments–from the frozen oil fields of northern Canada to the scorching desert of the American southwest–you can be confident that your generator has the quality and durability to meet the demands of the most challenging applications.
The G25-70 range is powered by fuel efficient Doosan diesel engines. These state-ofthe-art engines have been designed to be powerful and reliable while meeting EPA tier 4 emissions standards without the need for diesel particulate filters. In addition, these high-performance engines provide excellent transient response ensuring precision frequency stability.
The durable CoolBox™ enclosure is acoustically treated to minimize sound levels as low as 63dB(A) while ensuring proper cooling airflow through the package to operate at maximum load in high ambient temperatures.
Doosan mobile generators feature skid baseframes with integrated high capacity fuel tanks which provide a full load runtime of at least 24 hours. In addition, the baseframe is part of the environmental containment system that prevents spillage of fuel or oil outside of the package, safeguarding the environment.
And our heavy-duty running gear system mounts easily to the baseframe with low profile, torsion-style axles with your choice or electric or hydraulic surge brakes, bolt-on fenders, and adjustable height hitches to ensure safe and easy towing–on-road or off.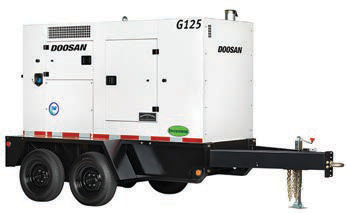 PRIME POWER RATING 125 kVA|100kW
The G125-150 models include the upgraded CoolBox Plus™ enclosure design which adds a temperature-controlled, variable-speed cooling fan to the package. This allows enhanced performance in extreme ambient temperatures while further improving sound attenuation and reducing water ingression across the operating range. Doosan mobile generators produce a broad range of output voltages thanks to the standard three-position voltage selector switch or link board panel. The voltage change feature is protected from unauthorized access and will shut the machine down to prevent switching during operation. The customer connection panel is spacious and designed to accept a wide variety of power cables. The convenience receptacle panel includes 240V single phase twist-lock receptacles and 120V GFCI receptacles that are powered any time the unit is running.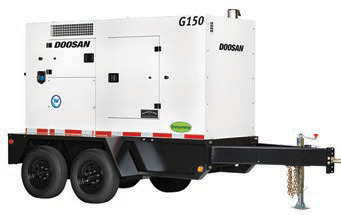 PRIME POWER RATING 154 kVA|123kW
Doosan's advanced controls include an LCD display which annunciates any warnings or shutdowns. In addition, the controller logs all system faults, greatly aiding technicians with diagnostics. The system also supports remote auto start/stop control, plus integration with various telematics systems.The G125-400 range is powered by Cummins tier 4-compliant diesel engines, paired with high capacity diesel exhaust fluid (DEF) tanks to ensure the DEF supply is matched to the available fuel supply.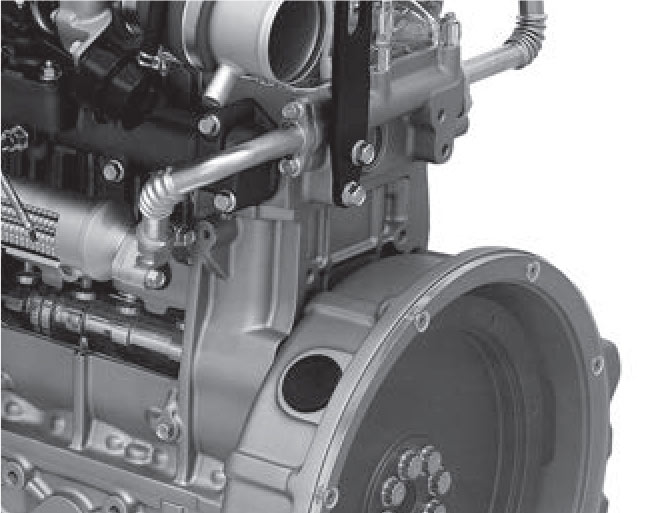 The high performance Doosan engine features a diesel oxidation catalyst (DOC) aftertreatment system, which is virtually maintenance-free.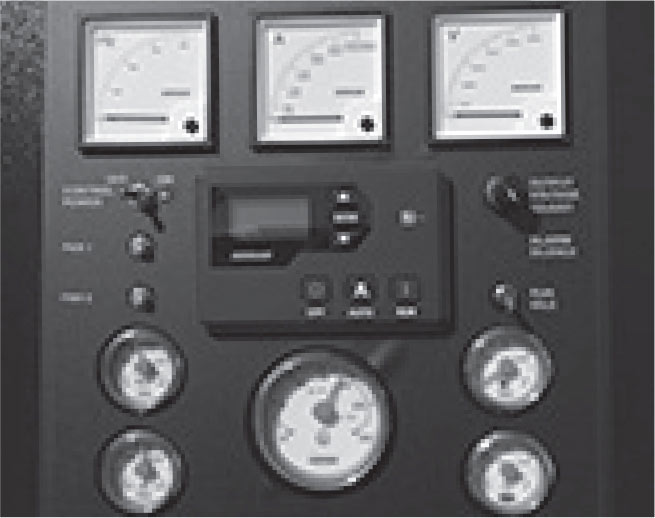 The easy-to-use operator panel includes the powerful TG410 controller and is complemented by a full array of analog gauges, greatly simplifying control and monitoring.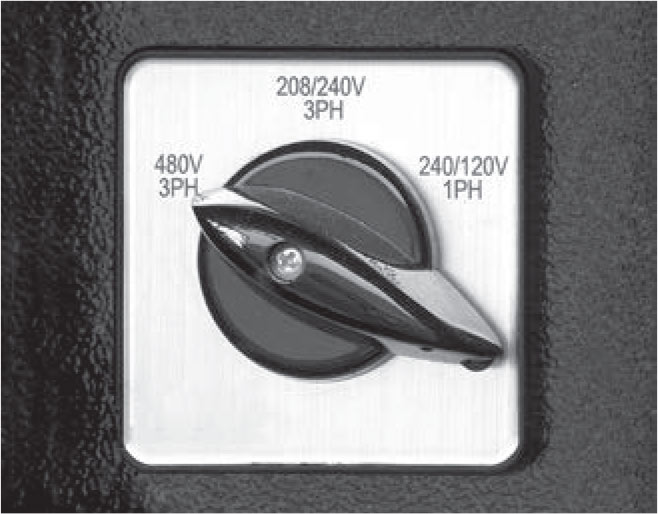 Standard units feature multi-voltage and 50/60Hz capability to meet a broad range of applications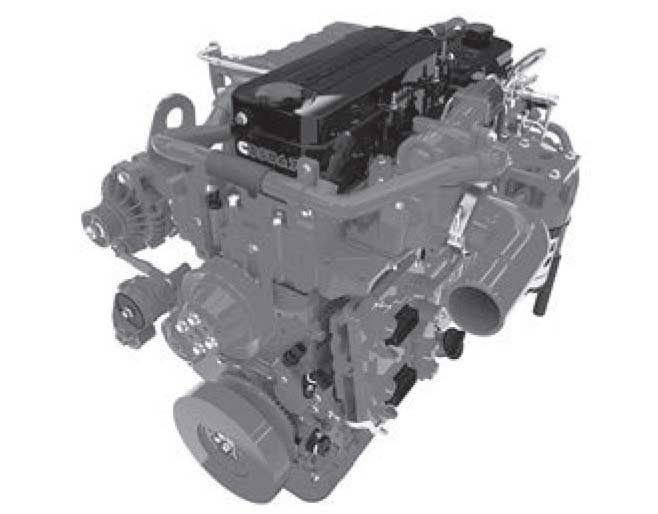 The G125-400 range is powered by Cummins diesel engines which meet tier 4 regulations while ensuring reliable performance and reduced maintenance.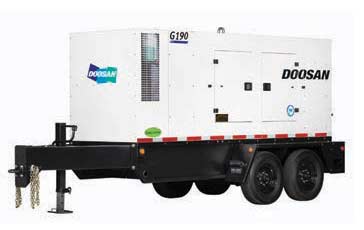 PRIME POWER RATING 181 kVA|145kW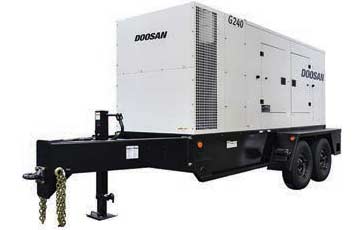 PRIME POWER RATING 235 kVA|188kW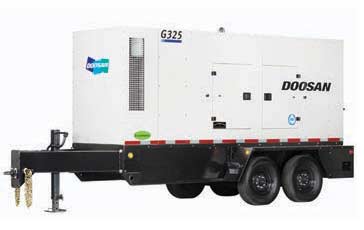 PRIME POWER RATING 334 kVA|267kW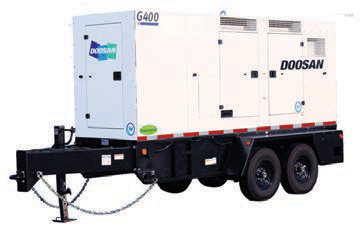 PRIME POWER RATING 402 kVA|322kW
The G190-G325 range features the exclusive DualBoxTM enclosure design. This innovative enclosure separates the powertrain from the cooling system, allowing independent control of the cooling performance in each compartment. The engine compartment is cooled by dual, variable speed, electric cooling fans designed to maximize sound attenuation and minimize water ingression. The cooling compartment features a high efficiency, centrifugal style cooling fan which improves fuel economy and provides the cooling performance that tier 4 diesel engines need.
A strong and powerful alternator is a must when powering critical jobs, so Doosan selects alternators that exceed the need. Separately-excited, brushless alternators have the motor starting capability required to power tower cranes, rock crushers and oilfield equipment, while the solid state automatic voltage regulators provide the precise voltage control needed in sensitive applications such as concerts, film production and special events.
Additionally, Doosan selects the highestgrade insulating materials to ensure long life and resistance to dust and moisture common in mobile applications.
Doosan mobile generators have been designed with the service technician in mind. With 500 hour intervals between fluid and filter exchanges, you can be sure that downtime for maintenance is minimized. All maintenance points are easily accessible and designed for fast and easy service. The range-topping G400 model is Doosan's most powerful machine, packaged in a compact footprint. Featuring the proven CoolBox PlusTM enclosure, the variable speed cooling fan ensures precision package cooling, reduced noise levels and improved fuel economy. Available with the standard TG410 control or the optional Deif AGC4 Power Management System, the G400 is versatile enough to support any application.
Doosan mobile generators can be equipped with a broad array of factory options including:
Cold weather packages
Remote fuel and DEF connections
Battery chargers
Camlock panels
Remote telemetry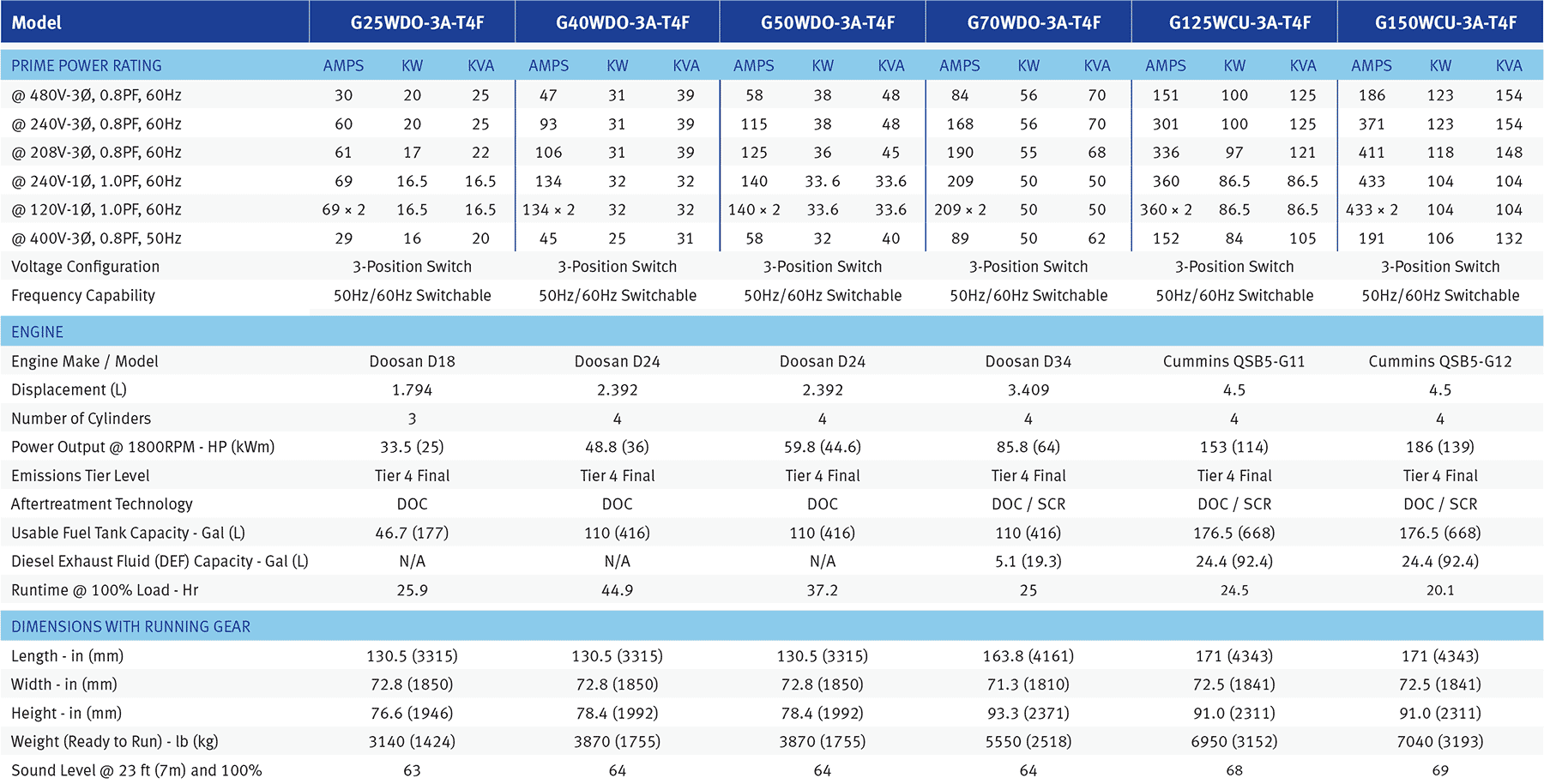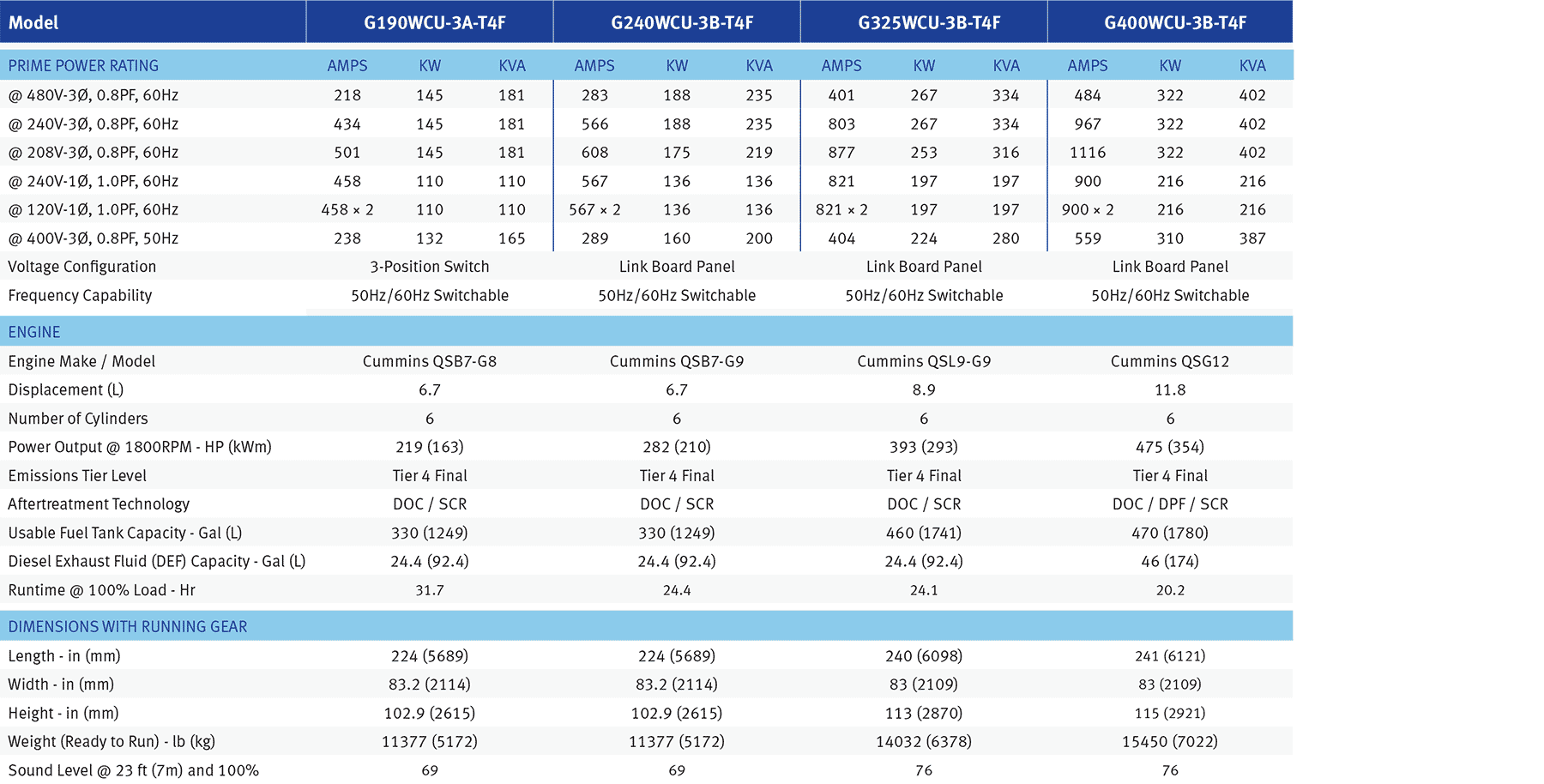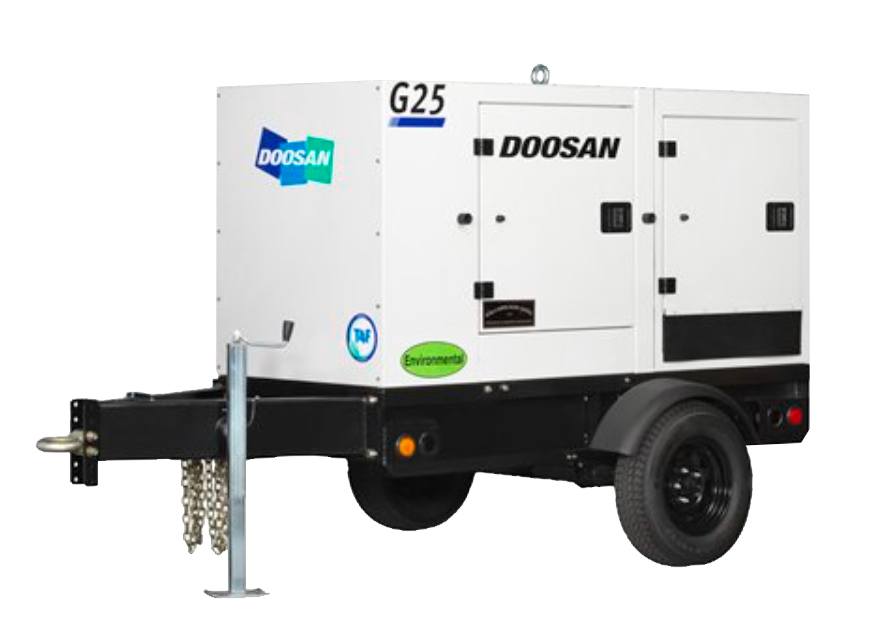 Our technical sales experts are available to provide you with a quote for your custom power generation package. We will respond as quickly as we can, typically within 24 hours.