PRIMA Power Systems is a proud dealer of Metrolite electric and hybrid LED light towers. We have a light towers for rent or sale.
The light towers are made to Canadian operating standards to suit the toughest climates, terrain, and conditions.
Aside from the sturdy design, the light towers include many environmentally-friendly, cost-friendly, and maintenance-free features. One of the greatest features of the hybrid light tower is reducing your carbon footprint.
We also offer light towers in compact sizes to help you save in transportation costs, with customizable options such as air shutoff, and options to combine your light tower with a multi-quip pump as part of our combo package.
Our portable, mobile, towable light towers can brilliantly light up your jobsite efficiently and precisely where you need it!
All of the light towers below are available for rent or purchase in North America for your industrial construction jobsite success. If you're unsure which light tower is the best option for your jobsite, one of our knowledgeable sales staff can help you select the right option to maximize your jobsite success and cost-savings.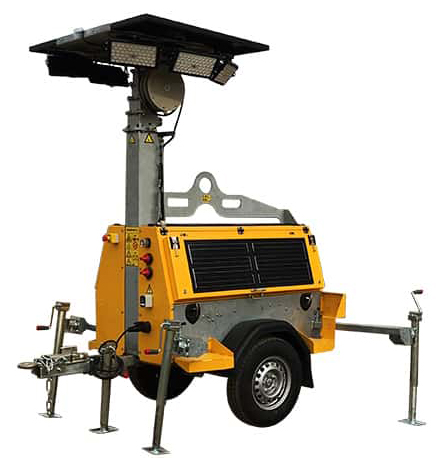 HYBRID LED LIGHT TOWER (HLT-6100)

The HLT-6100 LED Light Tower uses solar power to efficiently illuminate your night time operations.
Through advanced hybrid advanced hybrid technology and solar power, the HLT-6100 Hybrid LED Light Tower uses daylight to efficiently, continually, and cost effectively illuminate your jobsite.
The low fuel consumption of the HLT-6100 Solar Diesel Hybrid LED Light Tower provides savings up to 28 litres of diesel per night, with increased savings for 24 hr runtime. The reduced need for engine maintenance (a maximum of 4 times per year due to the low run-time of the engine) provides further cost-savings and allows you to spend more time on your operations.
Solar and diesel hybrid capabilities maximizes fuel savings
Heavy duty steel galvanized frame and mast
GPS and Telematics Capable
Automatic On at Dusk, Off at Dawn feature
Auxiliary power outlet
Rugged, multi stage vertical mast
4 Outriggers
6 VisionX LED Lamps
Reversible pintle hitch/ball hitch
Powder coated steel exterior
Kubota engine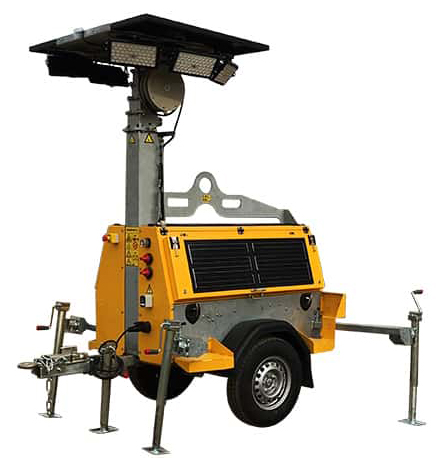 Hybrid technology: combined Solar Energy with DC generator makes it very environmentally friendly for use. Great for 24/7 operations like Mining, Oil & Gas, Rental and Construction Operations.
6-8 hours of runtime of the LED floodlights on the battery bank only.
Max. 3-4 hours engine runtime per 10 hour night.
Almost no CO₂ emission and noise emission because of runtime on battery bank.
Ideal for use in residential areas because of low sound emission.
24V DC-powered system and battery-bank safe to use (low voltage no explosion risks).
Lower operational costs by saving up to 28 litres of diesel per night.
Reduce engine maintenance to max. 4 times per year because of the low runtime of the engine instead of every month with a conventional light tower (250-400 hour runtime).
Reduce labour costs and spillage by fuelling only once every 30-45 days instead of every 2-3 days with conventional light towers.
Optional DSE interface for remote operation of the HLT-6100 Hybrid Light Tower, engine and fuel level monitoring, remote switching of the lights, and geofencing with a GPS position.
1600 Watt inverter

LED LIGHT TOWER (ELT-4320)
Thanks to the ELT-4320 LED Light Tower's special sockets, this light tower can be connected in a series up to 5 units. With a height of 7 meters and 4 x 320W LED lights, this nimble light tower brings brilliant illumination to your job site for little cost. This compact light tower has a low weight making it easy to move and transport.
Easy maneuvrability with wheelbarrow-style base and handles
Forklift pockets and four lift points
Rotating mast
Heavy duty galvanized, multi-stage mast
Four multi-positional 320 W LED lamps
15A/120V power for single unit
30A/240V power for series of 1-4 units off each 30A electrical plug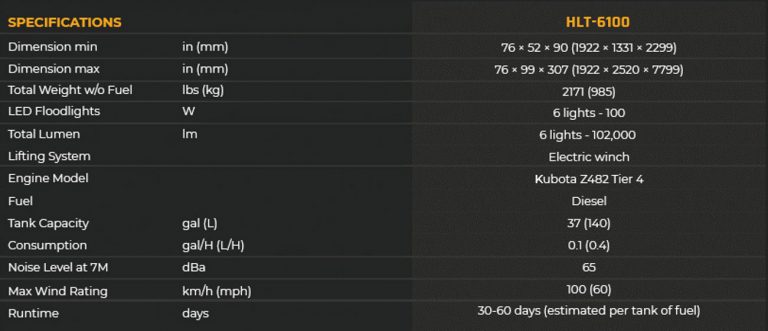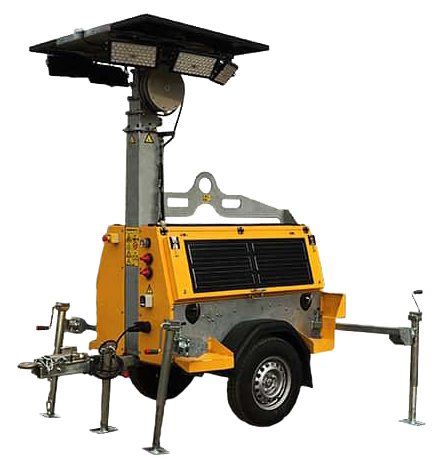 Our technical sales experts are available to provide you with a quote for your custom power generation package. We will respond as quickly as we can, typically within 24 hours.